Installing a Radiant Heat System
Janes Radiant is the premier solution for Do-It-Yourself homeowners and contractors who want to install in-floor heating as cost effectively as possible. Without cutting corners, we can help you choose the most practical radiant kit or system to provide you and your space with the best, most comfortable kind of heat, After years of installing thousands of systems throughout the northwest, our team is ready to provide all the assistance necessary for you to complete your own installation without worry. Talk to Janes Radiant about getting your project started today-we are here to make your DIY in-floor heat installation project simple and successful.

In-Floor Heating works well heating spaces of all size and use; large warehouses to tiny bathrooms, lavish homes to well-used workshops. Our do-it-yourself kits can be installed and utilized in all sorts of spaces with all sorts of materials: between joists, in a concrete slab, under hardwood or tile, etc. Whether you choose our hot water or our electric radiant heating kits, there is a Janes Radiant package for you.

There are two distinct ways to install a radiant floor heating system. The first is in the floor itself, the other under the subfloor between the joists. In most situations hydronic (water-based) systems are the most efficient. Below are common hydronic installation methods: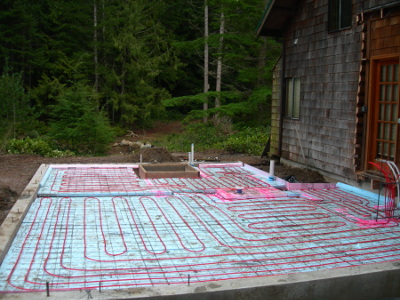 Slab on Grade
Tubing is installed over rigid insulation before the concrete slab is poured. Tubing would be tied off to rebar or wire mesh or in some cases stapled directly to the rigid insulation. This provides an efficient high-mass installation.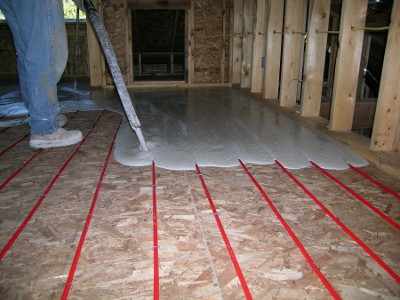 Tubing Over Plywood with Gypsum Over-pour
Tubing is stapled down over the plywood subfloor and would then be covered by a thin pour of light weight gypsum cement. This provides an efficient high-mass installation.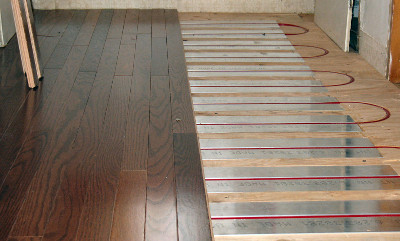 Pre-fab Panel Systems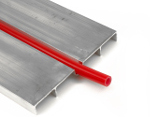 Panel systems are for installation over both existing concrete and wood subfloors. The panel systems are pre-engineered and have channels in the aluminum transfer plates where the tubing snaps into place. Floor coverings are then installed over the panel system.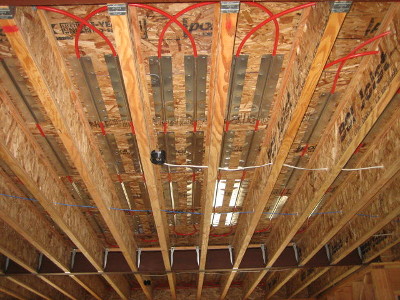 Staple-Up
Tubing is stapled to the bottom of the subfloor between the joists using aluminum heat transfer plates. The plates add to the efficiency and response of the installation. Insulation is then installed between the joists under the tubing to help drive the heat upwards.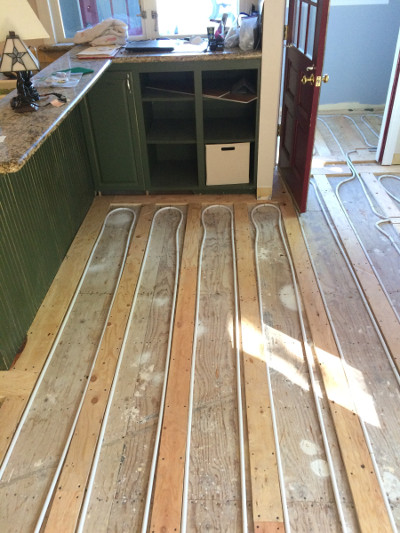 Sleepers Over Wood Subfloors
Plywood is cut down to provide wooden furring strips that are installed over the subfloor. Tubing is then installed between the sleepers and floor coverings are then installed directly over the sleepers and tubing.
For each of these hydronic installation options Janes Radiant will provide
a step-by-step illustrated installation guide
unlimited tech support by phone and e-mail for the duration of the installation
PEX tubing
a tubing layout diagram
manifold(s) to distribute the hot water to the various tubing loops
the boiler, hot water tank or tankless water heater suitable for the size and type of project
a pre-assembled, pre-wired mechanical panel with all components matched to your heat source
all additional parts you will need for installing and testing your new radiant in floor heating system